I started this little tradition a few years ago, just for sh*ts and giggles. Kind of a little brainteaser for new brides and grooms. Whenever we arrive at a reception, I head over to the guest book to sign. Sometimes they have that
80 page lacy thing
they spent $30-$60 only to have the first three pages filled with garden variety monikers like
Aunt Tilly and Uncle Milt from Kalamazoo
or
Stan and Vicky Mieskiewicz
.
After the second or third "Mr. & Mrs. Prego" I decided to have a little fun. I'm sure there have been friends and acquaintances puzzled, wondering:
Fred and Ethel Mertz?!
Mother Teresa and Mohandas Ghandi?

Tito Puente and Celia Cruz?
or most recently...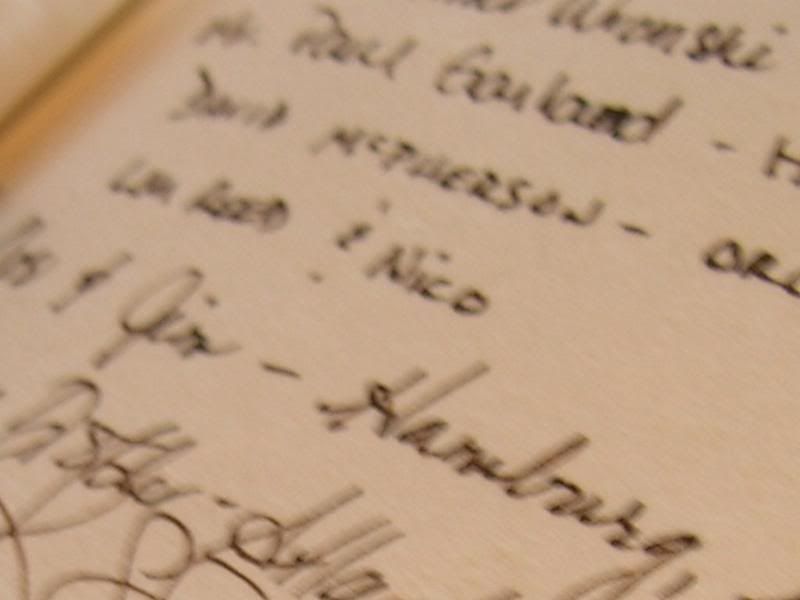 Bride
:
Who the heck are Lou Reed and Nico?
Groom
:
I think that's Uncle Milt's stepson and his "partner."
My favourite are those frames with the
large white matte
, placed prominently on a newlywed couple's mantle with the signatures of
Guy LaFleur and Manon Rheaume
. I added the little touch of the Montreal Canadiens
logo
underneath.
A savvy friend or relative might use process of elimination to figure it out, but it's not likely since not everybody gets around to signing it, and nobody's 'outed' us. Maybe next weekend -- my friend's a bit of a rock fan. So who will it be?

John Doe and Exene Cervenka?
Johnny Cash and June Carter?
Amy Ray and Emily Saliers?
The possibilities are endless, but I'm open to suggestions.