Here in Western New York we're a little privy to Canadian music, in large part because our radios receive their stations and their
CANCON
rule. I have, therefore, a long standing joke that the U.S. should cut off export of guitars to Canada, lest we be subjected to another Kim Mitchell or Barenaked Ladies recording... but sometimes guitars get in the hands of the right Canucks.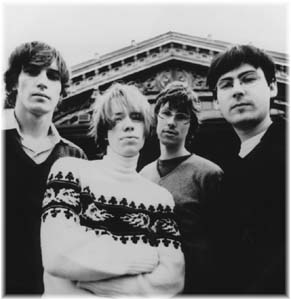 This week's Four Play features a band I consider one of Canada's finest. No, not Rush, but Halifax's
Sloan
. Have you ever heard a particular song by a particular band and gone, "Who the #$*& is
this
?" but in a good way?
...and then remember that exact moment whenever you hear them?
For me, I'll always remember when my a**hole friend put a cassette in my 1988 Nissan POS and said, "Here. Check this out," as we drove out to hunt down honeys in 5' of snow.
Ethereal powerpop in it's purest form, ladies and gents. Three original numbers and one tasty cover song. Enjoy.
I Am the Cancer
Lemonzinger
Penpals
I Can't Let Go